Platinum Preppy

Fountain Pen

PSQ-300/PSQ-400

Platinum Preppy

Fountain Pen

PSQ-300/PSQ-400

Platinum Preppy

Fountain Pen

PSQ-300/PSQ-400

Platinum Preppy

Fountain Pen

PSQ-300/PSQ-400

Platinum Preppy

Fountain Pen

PSQ-300/PSQ-400

Platinum Preppy

Fountain Pen

PSQ-300/PSQ-400

Platinum Preppy

Fountain Pen

PSQ-300/PSQ-400

Platinum Preppy

Fountain Pen

PSQ-300/PSQ-400

Platinum Preppy

Fountain Pen

PSQ-300/PSQ-400

Series

Preppy

Model

PSQ-300 or PSQ-400

Body

Poly carbonate(PC)

Nib

Stainless Steel, EF, F/M

Weight

13 g

Size

138 x 13 mm

Brand

Platinum

Origin

Japan

Others:

Platinum Preppy Fountain Pen, PSQ-300/PSQ-400 Platinum Preppy fountain pen is famous of having smooth-writing, high-quality fountain pen with a remarkably low price.  The Platinum Preppy is
Platinum Preppy Fountain Pen, PSQ-300/PSQ-400
Platinum Preppy fountain pen is famous of having smooth-writing, high-quality fountain pen with a remarkably low price.
The Platinum Preppy is an easy to use starter fountain pen.
It has a clear plastic body with the cap and pen body match with the ink color.
It has a cool look and comes in a variety of colors and nib sizes.
Pen nib is stainless steel available in 3 nib sizes, EF, F and M points
Platinum Preppy has featured a "Slip & Seal"cap design that prevents the nib from drying even without use for a year.
Length: 138mm long
Weight 13g
Diameter: 13mm max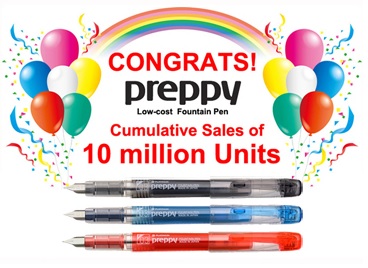 Release of Restyled Low-cost "preppy" Fountain Pen in Commemoration of the Cumulative Sales of 10 million Units. Renewal of preppy pen that has been widely loved by people worldwide for over ten years .
TAG:&nbsp&nbspPlatinum&nbspSlip & Seal Mechanism&nbspPlaisir&nbspFountain Pen&nbspSlip & Seal Mechanism
Related Products