Platinum Balance Shining Crystal Fountain Pen

PGB-3000A#5

Series

Balance

Model

PGB-3000A#5

Body

Acrylic Resin

Nib

Stainless Steel Gold Plated

Weight

18 g

Size

139.5 x 14.5 mm

Brand

Platinum

Origin

Japan

Others:

Platinum Balance Shining Crystal Fountain Pen, PGB-3000A#5 Platinum Balance Fountain Pen, PGB-3000A The Platinum Balance expresses coolness and simplicity with the transparent acrylic resin
Platinum Balance Shining Crystal Fountain Pen, PGB-3000A#5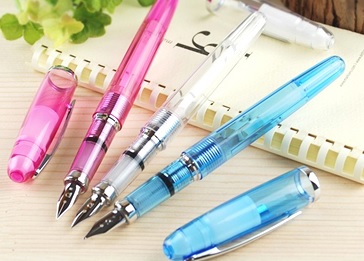 Platinum Balance Fountain Pen, PGB-3000A
The Platinum Balance expresses coolness and simplicity with the transparent acrylic resin body and steel nib.
The nib is flexible and very smooth-writing stainless steel nib available in F and M points.
Because the pen barrel is made of resin, it is a lightweight pen that could provide a very smooth and delightful writing experience. This pen is well-balanced in the hand, which is an excellent choice for an everyday writer.
With its affordable price, this is a great introduction to the Platinum line.
This Balance A model comes with 3 colors, Shining Crystal, Crystal Blue and Crystal Rose.
PGB-3000A#5 - Shining Crystal
PGB-3000A #58 - Crystal Blue
PGB-3000A #74 – Crystal Rose
The pen comes in a gift box, a single cartridge, converter and warranty card.
Platinum fountain pen is renowned of the great smoothness of its nib and weightless feel of fine writing pen.
Length: 139.5mm long
Diameter: 14.5mm max
Weight: 18g
TAG:&nbsp&nbspPlatinum&nbspJapan&nbspBalance&nbspBlack Fountain Pen
Related Products