Platinum #3776 Century

OSHINO Limited Edition

Fountain Pen

PNB-20000A

Series

#3776 Century

Model

PNB-20000A

Body

AS Resin / Transparent

Nib

14K Gold (Rhodium Finish)

Weight

21.1 g

Size

139.5 x 15.4 mm

Brand

Platinum

Origin

Japan

Others:

Platinum #3776 Century Oshino Limited Edition Fountain Pen, PNB-20000A This Platinum 3776 Limited Edition Oshino Fountain Pen is named after Oshino Hakkai, which is a famous destination for the b

Platinum #3776 Century Oshino Limited Edition Fountain Pen, PNB-20000A
This Platinum 3776 Limited Edition Oshino Fountain Pen is named after Oshino Hakkai, which is a famous destination for the beautiful springs sourced from the underground water of Mount Fuji.
Oshino Hakkai is a small village located in the Fuji Five Lake region, between Lake Yamanakako and Lake Kawaguchiko. The clear water springs in Oshino Hakkai are fed by water from the snow which are filter through the mountain's porous layers of lava, resulting in crystal clear spring water.
It has a clear transparent demonstrator cap and barrel, the entire pen body is transparent like clear waters from the village of Oshino. Also, the pen evokes images of the crystal clear waters of the 8 springs found in Oshino Hakkai.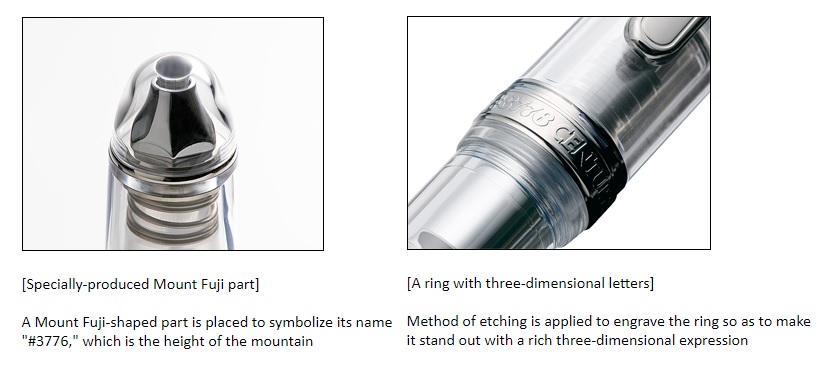 A special part with a motif of Mount Fuji is placed at the top of the pen and the method of etching is applied to the cap ring to provide a three-dimensional effect, which makes the pen even more precious.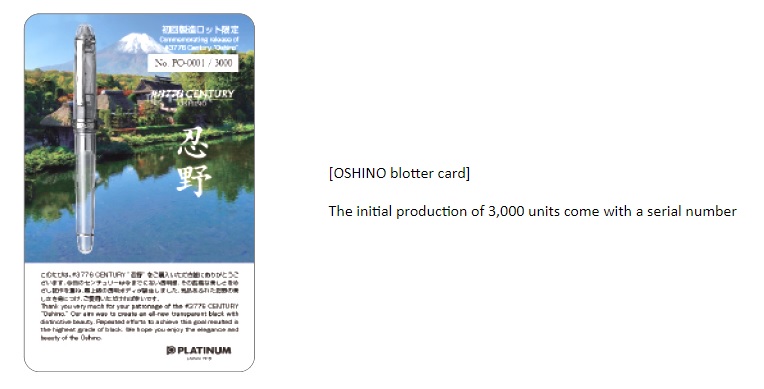 It comes with a blotter card with a serial number for the initial 3,000 production lots.
The pen comes with a rhodium-plated with a very smooth-writing 14k gold nib available in Fine, Medium or Broad points.
The pen features a unique "Slip and Seal" mechanism in the cap, meaning an airtight screw-on cap that prevents ink from drying out. Other fountain pens can dry out in as little as 2–4 weeks without use, but Platinum's Slip and Seal cap prevents dry out for over a year without use.
The pen comes with a special gift box, a Platinum converter, one cartridge ink, an informational blotter card and an international warranty.
Platinum fountain pen is renowned of the great smoothness of its nib and weightless feel of fine writing pen. This is a beautiful pen for your pen collection.
Length: 139.5mm long
Diameter: 15.4mm max
Weight: 21.1g
TAG:&nbsp&nbspPlatinum&nbspJapan&nbspFountain Pen&nbspLimited Edition&nbspOSHINO&nbsp3776 Century
Related Products