Platinum Izumo

Bamboo Weaving

Yokoajiro Torafudake

Fountain Pen

PBA-120000G#10

Platinum Izumo

Bamboo Weaving

Yokoajiro Torafudake

Fountain Pen

PBA-120000G#10

Platinum Izumo

Bamboo Weaving

Yokoajiro Torafudake

Fountain Pen

PBA-120000G#10

Platinum Izumo

Bamboo Weaving

Yokoajiro Torafudake

Fountain Pen

PBA-120000G#10

Platinum Izumo

Bamboo Weaving

Yokoajiro Torafudake

Fountain Pen

PBA-120000G#10

Platinum Izumo

Bamboo Weaving

Yokoajiro Torafudake

Fountain Pen

PBA-120000G#10

Platinum Izumo

Bamboo Weaving

Yokoajiro Torafudake

Fountain Pen

PBA-120000G#10

Platinum Izumo

Bamboo Weaving

Yokoajiro Torafudake

Fountain Pen

PBA-120000G#10

Platinum Izumo

Bamboo Weaving

Yokoajiro Torafudake

Fountain Pen

PBA-120000G#10

Platinum Izumo

Bamboo Weaving

Yokoajiro Torafudake

Fountain Pen

PBA-120000G#10

Platinum Izumo

Bamboo Weaving

Yokoajiro Torafudake

Fountain Pen

PBA-120000G#10

Platinum Izumo

Bamboo Weaving

Yokoajiro Torafudake

Fountain Pen

PBA-120000G#10

Platinum Izumo

Bamboo Weaving

Yokoajiro Torafudake

Fountain Pen

PBA-120000G#10

Series

Izumo Bamboo Weaving

Model

PBA-120000G#10 (Brown, Tiger-Spotted)

Body

POM, casing (bamboo)

Nib

18k Gold wide (18-21)

Weight

30g

Size

136.5mm (Max Diameter 15mm)

Brand

Platinum

Origin

Japan

Others:

A unique fountain pen made with finely woven bamboo

PLATINUM IZUMO Bamboo Weaving Yokoajiro Torafudake (Brown, Tiger-spotted) Fountain Pen, PBA-120000G#10Platinum Izumo Bamboo Weaving Collection is a beautifully unusual model, one of the Platinum fount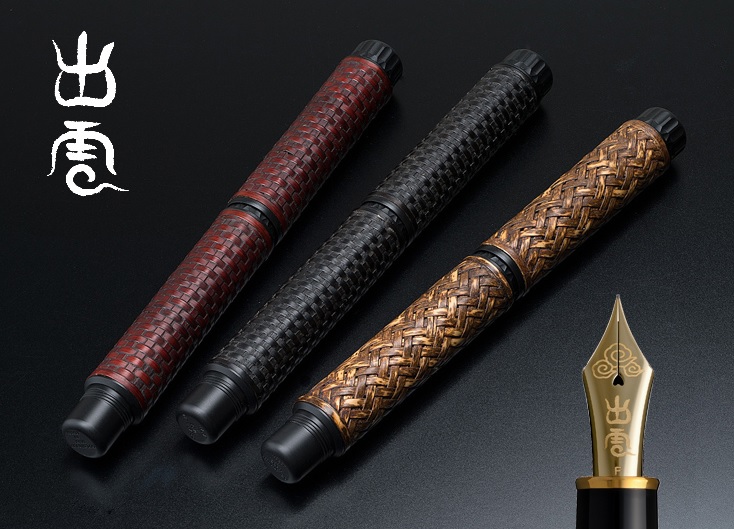 PLATINUM IZUMO Bamboo Weaving Yokoajiro Torafudake (Brown, Tiger-spotted) Fountain Pen, PBA-120000G#10

Platinum Izumo Bamboo Weaving Collection is a beautifully unusual model, one of the Platinum fountain pens' luxury Izumo series. The bamboo weaving pens of "Gozame (Ankokushoku/Benikabairo)" and "Yokoajiro (Torafudake)", are made through highly skilled Japanese bamboo craftsmanship using traditional weaving technique.
The main feature of these fountain pens is the barrel, which is weaved carefully by skilled traditional craftsmen using bamboo. Each pen is individually hand-crafted, after selecting the right Torafudake bamboo, it is cut, dyed, hand-applied to the cap and barrel, and then finished with a layer of natural urushi lacquer, giving it a rich dignified look to the fountain pen.
This extraordinary collection is available in 3 different colors, Ankokushoku (Black) ,Benikabairo (Dark Red) and Torafu (Brown, tiger-spotted) and the pen point is available with a 18K gold Medium, Fine and Broad nib.
For the superb Torafu (Brown, tiger-spotted) version, a type of bamboo that parasitized by bacteria called torafukin is used. This type of bamboo creates beautiful, characteristic pattern with black spots that makes the pen similar to a tiger. This special technique of making spotted pattern on bamboo was developed and used since the Edo period and it has been prized since then.
The pen is packaged in an elegant Paulownia wood gift box, a traditional pen pouch, ink bottle of 30ml, Platinum converter, one cartridge ink and an international warranty.
Platinum fountain pen is renowned of the great smoothness of its nib and weightless feel of fine writing pen.
Length: 136.5mm

Diameter : 15mm
Weight: 30g
History of Bamboo Craft
The history of bamboo craft is old and has been closely involved in the lives of Japanese people. The craft techniques, which gradually enhanced its value, have been passed down by traditional craftsmen. The main feature of the bamboo weaving fountain pen is the barrel whose beautiful decoration is created through a finely woven bamboo. It also adopts a first linear design in Izumo brands. The weaving design provides a beautiful retro-chic look as well as a smooth fit to your hands.
Manufacturing Process

About the manufacturing process of this pen, numerous processes are necessary to make the bamboo strips. After selecting the right bamboo, a boiling process called aburanuki is used to make the material durable. After this follows the three steps; arawari, habatori and senhiki. Finally, 36 bamboo strips of an even width (approximately 2mm in width and 0.2mm in thickness) are used to weave the barrel. The two models of Gozame are dyed and thereafter coated with sabiurushi, while Yokoajiro Torafu is simply coated with urushi over the bamboo strips.
TAG:&nbsp&nbspPlatinum&nbspJapan Made&nbspIzumo&nbspFountain Pen&nbspBamboo Weaving&nbsp18K gold wide Nib&nbspTorafudake
Related Products