Rubinato Wood Pen Set

#1 PIPPO

Rubinato Wood Pen Set

#1 PIPPO

Rubinato Wood Pen Set

#1 PIPPO

Rubinato Wood Pen Set

#1 PIPPO

Rubinato Wood Pen Set

#1 PIPPO

Rubinato Wood Pen Set

#1 PIPPO

Rubinato Wood Pen Set

#1 PIPPO

Rubinato Wood Pen Set

#1 PIPPO

Rubinato Wood Pen Set

#1 PIPPO

Rubinato Wood Pen Set

#1 PIPPO

Rubinato Wood Pen Set

#1 PIPPO

Series

Wood Pen Set

Model

1 PIPPO

Body

Wood

Nib

Steel

Weight

Size

7 inches in approx

Brand

Rubinato

Origin

Italy

Others:

Rubinato Wooden Dip Pen & Ink Set, #1 PIPPOCompare to feather quill with metal grips and glass pens, wooden dip pens are probably a more warm to be touched and with a lighter weight.This Rubinato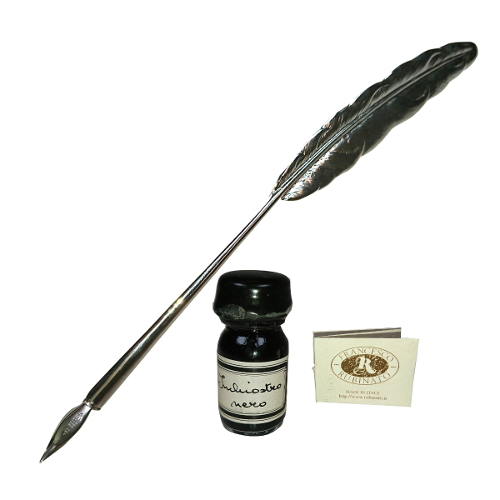 Rubinato Wooden Dip Pen & Ink Set, #1 PIPPO
Compare to feather quill with metal grips and glass pens, wooden dip pens are probably a more warm to be touched and with a lighter weight.
This Rubinato writing set is simple, classic and sturdy comprising a wooden pen with nib and a bottle of black ink 10cc.
Box Size : 24 x 6 x 2.5 cm
Gift-Boxed
Package includes:
1 * Wooden Dip Pen with Nib
1 * Glass bottle of ink (10cc)
1 * Certificate of Authenticity
MADE IN ITALY
This set and many other calligraphy items can be found in our web page and facebook.
Please note that color of the photos may vary due to the difference between monitors.
The specs, photos or videos of this product page are for reference only.
TAG:&nbsp&nbspRubinato&nbspItlay&nbspFeather&nbspInk Pen
Related Products