Platinum Vicoh Kanazawa Gold Leaf Goldfish

Fountain Pen with 18k Nib

PTL-15000H#24

Platinum Vicoh Kanazawa Gold Leaf Goldfish

Fountain Pen with 18k Nib

PTL-15000H#24

Platinum Vicoh Kanazawa Gold Leaf Goldfish

Fountain Pen with 18k Nib

PTL-15000H#24

Platinum Vicoh Kanazawa Gold Leaf Goldfish

Fountain Pen with 18k Nib

PTL-15000H#24

Platinum Vicoh Kanazawa Gold Leaf Goldfish

Fountain Pen with 18k Nib

PTL-15000H#24

Platinum Vicoh Kanazawa Gold Leaf Goldfish

Fountain Pen with 18k Nib

PTL-15000H#24

Platinum Vicoh Kanazawa Gold Leaf Goldfish

Fountain Pen with 18k Nib

PTL-15000H#24

Platinum Vicoh Kanazawa Gold Leaf Goldfish

Fountain Pen with 18k Nib

PTL-15000H#24

Platinum Vicoh Kanazawa Gold Leaf Goldfish

Fountain Pen with 18k Nib

PTL-15000H#24

Platinum Vicoh Kanazawa Gold Leaf Goldfish

Fountain Pen with 18k Nib

PTL-15000H#24

Platinum Vicoh Kanazawa Gold Leaf Goldfish

Fountain Pen with 18k Nib

PTL-15000H#24

Platinum Vicoh Kanazawa Gold Leaf Goldfish

Fountain Pen with 18k Nib

PTL-15000H#24

Series

Vicoh

Model

PTL-15000H#24

Body

AS Resin with Urushi Coating

Nib

18K Gold

Weight

16.7 gm

Size

139 x 13 mm

Brand

Platinum

Origin

Japan

Others:

Platinum Vicoh Kanazawa Gold Leaf Goldfish Fountain Pen with 18K Gold Nib The thin and delicate design gives a novel and nostalgic feel. The pen nib made of K14 and K18 gold with the form always
Platinum Vicoh Kanazawa Gold Leaf Goldfish Fountain Pen with 18K Gold Nib


The thin and delicate design gives a novel and nostalgic feel. The pen nib made of K14 and K18 gold with the form always loved, falls comfortably in place in ones hand when held. Thus, it naturally draws one to write on the paper. To write beautiful letters, you need to express your true feelings straight from your heart. Through the use of "Vicoh" series fountain pen, one is enabled to personify a peaceful life through a beautiful smooth writing experience. The Vicoh design matches perfectly with a barrel of Japanese traditional craft such as Kanazawa-haku (gold leaf) and Kaga hira makie, and it is a sound fountain pen that delivers the spirit of Wa (harmony).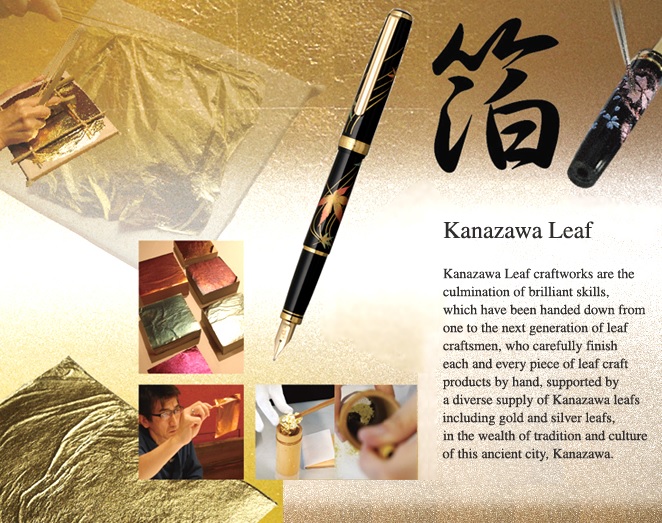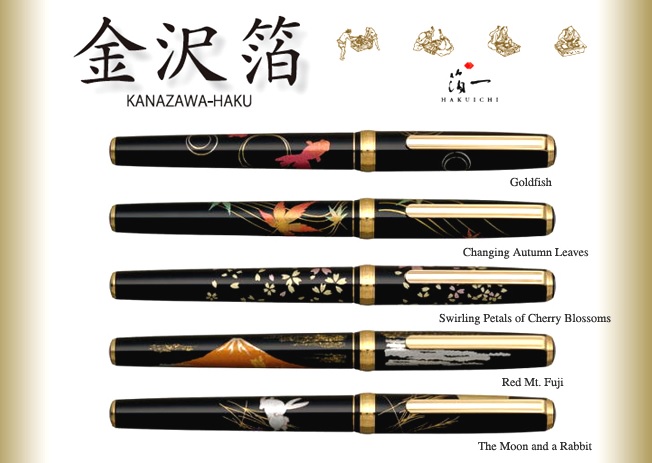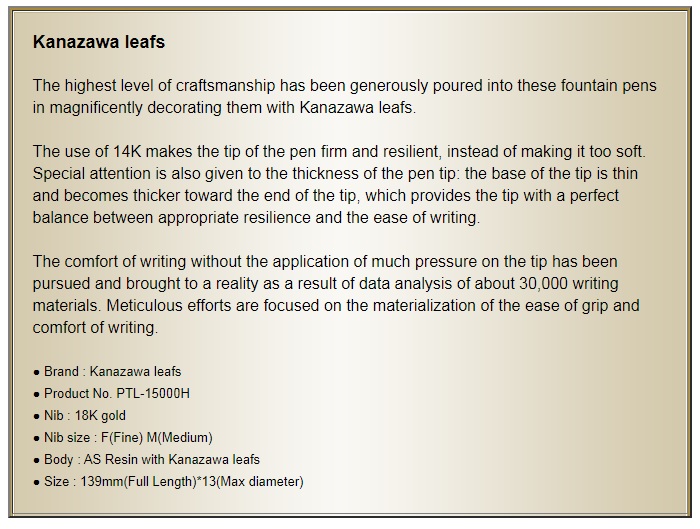 The glow of the piece, to be born.
Thin gold leaf is about one ten-thousandth of 1~2mm. It is about 2g (about half of the 10-yen coin) money is extended to the limit of thin tatami single minute.
To extend to the extreme thiness, and excellent craftsmanship that was charged with making the paper is said to affect the gold has all the elements needed for making gold and climate.
Over 400 years since the days when millions of Kaga stone has been inherited in the land of Kanazawa, we introduce the creation of gold.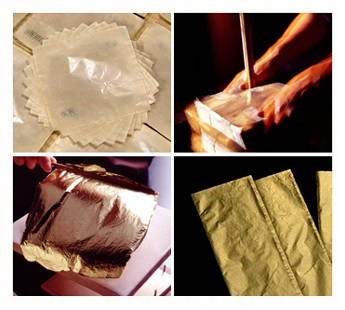 TAG:&nbsp&nbspPlatinum&nbspJapan&nbspVicoh&nbspKanazawa&nbspGold Leaf&nbspGoldfish Fountain Pen
Related Products