Platinum #3776 Century

SHUNGYO Limited Edition

Fountain Pen

PNB-25000SY #19

Platinum #3776 Century

SHUNGYO Limited Edition

Fountain Pen

PNB-25000SY #19

Platinum #3776 Century

SHUNGYO Limited Edition

Fountain Pen

PNB-25000SY #19

Platinum #3776 Century

SHUNGYO Limited Edition

Fountain Pen

PNB-25000SY #19

Platinum #3776 Century

SHUNGYO Limited Edition

Fountain Pen

PNB-25000SY #19

Platinum #3776 Century

SHUNGYO Limited Edition

Fountain Pen

PNB-25000SY #19

Platinum #3776 Century

SHUNGYO Limited Edition

Fountain Pen

PNB-25000SY #19

Platinum #3776 Century

SHUNGYO Limited Edition

Fountain Pen

PNB-25000SY #19

Platinum #3776 Century

SHUNGYO Limited Edition

Fountain Pen

PNB-25000SY #19

Platinum #3776 Century

SHUNGYO Limited Edition

Fountain Pen

PNB-25000SY #19

Platinum #3776 Century

SHUNGYO Limited Edition

Fountain Pen

PNB-25000SY #19

Platinum #3776 Century

SHUNGYO Limited Edition

Fountain Pen

PNB-25000SY #19

Platinum #3776 Century

SHUNGYO Limited Edition

Fountain Pen

PNB-25000SY #19

Platinum #3776 Century

SHUNGYO Limited Edition

Fountain Pen

PNB-25000SY #19

Platinum #3776 Century

SHUNGYO Limited Edition

Fountain Pen

PNB-25000SY #19

Platinum #3776 Century

SHUNGYO Limited Edition

Fountain Pen

PNB-25000SY #19

Series

#3776 Century

Model

PNB-15000CR#51

Body

AS Resin / Red Transparent

Nib

14K Gold (Rhodium Finish)

Weight

20.5 g

Size

139.5 x 15 mm

Brand

Platinum

Origin

Japan

Others:

Platinum #3776 Limited Edition Century Shungyo Fountain, PNB-25000SY #19  Platinum Shungyo Fountain Pen is the first in the new Fuji Shunkei (Fuji Seasonal View) series of limited edition fountai

Platinum #3776 Limited Edition Century Shungyo Fountain, PNB-25000SY #19
Platinum Shungyo Fountain Pen is the first in the new Fuji Shunkei (Fuji Seasonal View) series of limited edition fountain pen, the Shungyo Limited Edition was produced of just 3776 numbered pieces worldwide.
This design is inspired by the seasonal scenery of Mount Fuji, the brilliant red sunrises of early spring at Mount Fuji. This pen features a translucent deep red body with a matte finish etched with irregular fine lines resembling rays of sunlight or reflections on a frosty lake.
Inside the frosted dome at the top of the cap is a special part shaped to imitate the silhouette of Mount Fuji. Each of the limited production of 3,776 pens comes with an engraved serial number.
This pen is silver trimmed and it comes with a very smooth-writing rhodium plated 14k gold nib available in Soft fine, Fine, Medium, Broad and Double broad points.
The pen features a unique "Slip and Seal" mechanism in the cap, meaning an airtight screw-on cap that prevents ink from drying out. Other fountain pens can dry out in as little as 2–4 weeks without use, but Platinum's Slip and Seal cap prevents dry out for over a year without use.
Each Platinum 3776 Century Shungyo comes in an exclusive box, a Platinum converter, one cartridge ink and an international warranty.
Platinum fountain pen is renowned of the great smoothness of its nib and weightless feel of fine writing pen.
Length: 139.5mm long
Diameter: 15.4mm max
Weight: 21g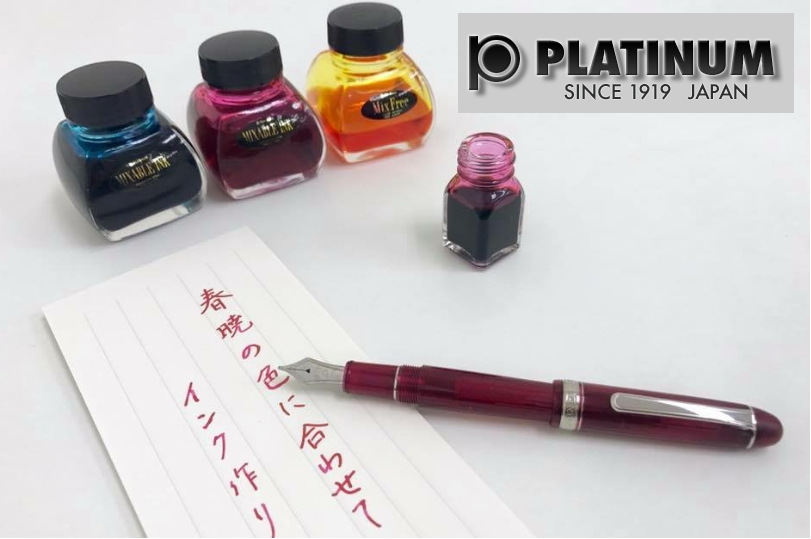 TAG:&nbsp&nbspPlatinum&nbspJapan&nbspSHUNGYO&nbspFountain Pen&nbsp#3776 Century
Related Products