Platinum #3776 Century

Nice Lavende Fountain Pen

PNB-20000R#87

Platinum #3776 Century

Nice Lavende Fountain Pen

PNB-20000R#87

Platinum #3776 Century

Nice Lavende Fountain Pen

PNB-20000R#87

Platinum #3776 Century

Nice Lavende Fountain Pen

PNB-20000R#87

Platinum #3776 Century

Nice Lavende Fountain Pen

PNB-20000R#87

Platinum #3776 Century

Nice Lavende Fountain Pen

PNB-20000R#87

Platinum #3776 Century

Nice Lavende Fountain Pen

PNB-20000R#87

Platinum #3776 Century

Nice Lavende Fountain Pen

PNB-20000R#87

Platinum #3776 Century

Nice Lavende Fountain Pen

PNB-20000R#87

Platinum #3776 Century

Nice Lavende Fountain Pen

PNB-20000R#87

Platinum #3776 Century

Nice Lavende Fountain Pen

PNB-20000R#87

Platinum #3776 Century

Nice Lavende Fountain Pen

PNB-20000R#87

Platinum #3776 Century

Nice Lavende Fountain Pen

PNB-20000R#87

Platinum #3776 Century

Nice Lavende Fountain Pen

PNB-20000R#87

Series

#3776 Century Nice

Model

PNB-20000R#87

Body

AS Resin / Light Purple Transparent

Nib

14K Gold Pink Gold Finish

Weight

19.6 g

Size

139.5 x 15.4 mm

Brand

Platinum

Origin

Japan

Others:

Platinum #3776 Century Nice Lavende Fountain Pen with 14K Gold Pink Gold Finish NibPlatinum #3776 Century Fountain Pen Nice Lavende, PNB-20000R#87Inspired by the beautiful fields of lavender that blos
Platinum #3776 Century Nice Lavende Fountain Pen with 14K Gold Pink Gold Finish Nib


Platinum #3776 Century Fountain Pen Nice Lavende, PNB-20000R#87
Inspired by the beautiful fields of lavender that blossom across the French Riviera in early summer, this beautiful Platinum 3776 Nice lavender fountain pen features a frosted lavender purple translucent body complemented by exquisite rose gold plated accents. There are vertical lines that run through the cap and barrel and it has a matte finish on the pen.
As the flower language implies, this Lavande fountain pen creates a sense of calm, inviting one to breathe deeply into writing, making it unique among other Nice models.
This fountain pen combines a frosted transparent lavender purple resin body with a rich warm rose gold color on the trim to create a pen that embodies luxury, taste, and beauty.
The pen features a very smooth writing solid gold 14k nib available in F, M and B points.
The pen features a unique "Slip and Seal" mechanism in the cap, meaning an airtight screw-on cap that prevents ink from drying out. Other fountain pens can dry out in as little as 2–4 weeks without use, but Platinum's Slip and Seal cap prevents dryout for over a year without use. Meanwhile, a newly redesigned nib and feed regulate the ink flow.
It comes with an oval shaped cardboard box with the Platinum logo embossed in gold on the top of the lid. Inside the box, there is a blotter card with a serial number for the first 3,000 pens, warranty card, user's manual, a Platinum converter and a proprietary ink cartridge.
Platinum fountain pen is renowned of the great smoothness of its nib and weightless feel of fine writing pen. This classic pen is a perfect choice for anyone looking to experience the world of premium Japanese fountain pens.
Length: 139.5mm long
Weight: 20g
Diameter: 15.4mm max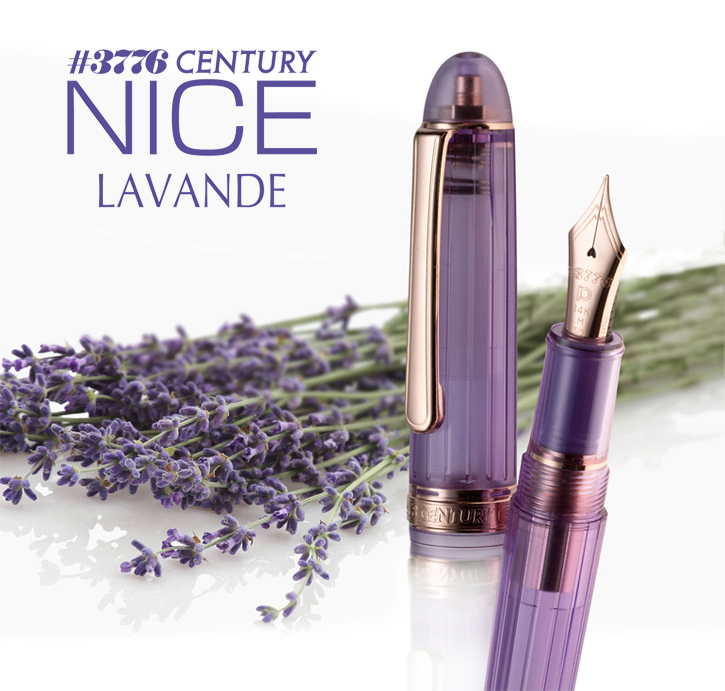 TAG:&nbsp&nbspPlatinum&nbspJapan&nbsp#3776 Century&nbspNice&nbspSlip & Seal Mechanism&nbspFountain Pen
Related Products