Platinum #3776 Century

Music Black in Black

Fountain Pen

PNBM-20000#1

Platinum #3776 Century

Music Black in Black

Fountain Pen

PNBM-20000#1

Platinum #3776 Century

Music Black in Black

Fountain Pen

PNBM-20000#1

Platinum #3776 Century

Music Black in Black

Fountain Pen

PNBM-20000#1

Platinum #3776 Century

Music Black in Black

Fountain Pen

PNBM-20000#1

Platinum #3776 Century

Music Black in Black

Fountain Pen

PNBM-20000#1

Platinum #3776 Century

Music Black in Black

Fountain Pen

PNBM-20000#1

Series

#3776 Century

Model

PNBM-20000#1

Body

AS Resin Black

Nib

14K Gold (Music Nib)

Weight

20.5 g

Size

139.5 ×15.4 mm

Brand

Platinum

Origin

Japan

Others:

Platinum #3776 Century Music Black in Black Fountain PenThere are two slits instead of one on a music nib. With two slits, it can supply more ink to the tip and helps to prevent skipping while writing
Platinum #3776 Century Music Black in Black Fountain Pen


There are two slits instead of one on a music nib. With two slits, it can supply more ink to the tip and helps to prevent skipping while writing or drawing.
Compared to the normal nib, music has two slits to increase the ink flow rate. For this reason, there was a defect that many parts that touched the air were easy to dry, but the "slip seal mechanism" made the pen tip completely airtight, which prevented the ink from drying out.
It is generally said to be a nib for writing music, it is becoming more popular when
A music nib is especially good to write musical notes. Using the music nib on drawing or design decorative letters are also very common, as it can produce both the thin and thick strokes by changing the way of holding the pen.
For more information about the Platinum Black in Black Diamond Fountain Pen, please refer to model PNB-13000# (Ballpoint Pen is BNB-5000#7)

Note: Matching mechanical pencil of 0.5mm lead is available, MNB-5000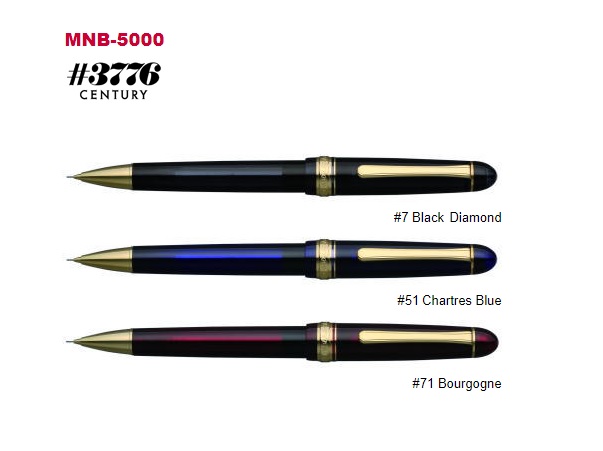 TAG:&nbsp&nbspPlatinum&nbspJapan&nbsp3776 Century&nbspBlack in Black&nbspMusic Nib&nbspFountain Pen
Related Products