Platinum #3776 Century

Yaku-sugi Cedar Wood

Fountain Pen

PTB-50000YN#62

Platinum #3776 Century

Yaku-sugi Cedar Wood

Fountain Pen

PTB-50000YN#62

Platinum #3776 Century

Yaku-sugi Cedar Wood

Fountain Pen

PTB-50000YN#62

Platinum #3776 Century

Yaku-sugi Cedar Wood

Fountain Pen

PTB-50000YN#62

Platinum #3776 Century

Yaku-sugi Cedar Wood

Fountain Pen

PTB-50000YN#62

Platinum #3776 Century

Yaku-sugi Cedar Wood

Fountain Pen

PTB-50000YN#62

Platinum #3776 Century

Yaku-sugi Cedar Wood

Fountain Pen

PTB-50000YN#62

Platinum #3776 Century

Yaku-sugi Cedar Wood

Fountain Pen

PTB-50000YN#62

Platinum #3776 Century

Yaku-sugi Cedar Wood

Fountain Pen

PTB-50000YN#62

Platinum #3776 Century

Yaku-sugi Cedar Wood

Fountain Pen

PTB-50000YN#62

Platinum #3776 Century

Yaku-sugi Cedar Wood

Fountain Pen

PTB-50000YN#62

Platinum #3776 Century

Yaku-sugi Cedar Wood

Fountain Pen

PTB-50000YN#62

Platinum #3776 Century

Yaku-sugi Cedar Wood

Fountain Pen

PTB-50000YN#62

Platinum #3776 Century

Yaku-sugi Cedar Wood

Fountain Pen

PTB-50000YN#62

Platinum #3776 Century

Yaku-sugi Cedar Wood

Fountain Pen

PTB-50000YN#62

Platinum #3776 Century

Yaku-sugi Cedar Wood

Fountain Pen

PTB-50000YN#62

Series

#3776 Century

Model

PTB-50000YN#62

Body

Yaku-Sugi(cedar) /Brown

Nib

18K Gold

Weight

23.5 g

Size

146.9 x 15.2mm

Brand

Platinum

Origin

Japan

Others:

Platinum #3776 Century Yaku-Sugi Fountain Pen, PTB-50000YNYakusugi (屋久杉) refers to Japanese cedar tree which grows wild on the island of Yakushima more than 500 meters above sea level.In Japan, "Yakus
Platinum #3776 Century Yaku-Sugi Fountain Pen, PTB-50000YN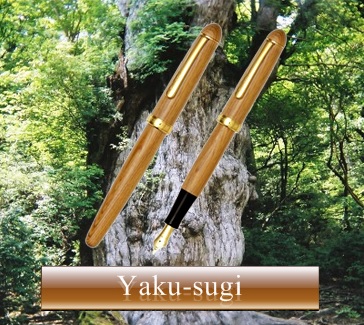 Yakusugi (屋久杉) refers to Japanese cedar tree which grows wild on the island of Yakushima more than 500 meters above sea level.
In Japan, "Yakusugi" trees tend to have long lives, and many larger trees can be survived for more than 2,000 years, these make cedar trees the symbol of eternity, long life and prosperity.
Yakushima island and its forest is regarded as National Treasure of Japan, and it is absolutely not allowed to cut Yakusugi nowadays. Only stumps cut down during EDO period or trees that have fallen in natural disasters are allowed to be used thereby making it difficult to obtain. It is the reason why the number of Yakisugi pens is extremely limited and precious.
What makes Yakusugi special is their longevity. The title of 'Yakusugi' cedar tree is generally given to trees over 1,000 years old. For those that are less than a thousand years old is regarded as "小杉 - small cedar".
The Yakusugi Cedar is especially prized for its color, beautiful rich grain and light weight. The Platinum "Yakisugi" fountain pens are generally sold of its long life beautiful charm.
Each Yaku-Sugi is carefully crafted from natural cedar and shaped by hand to ensure finished to exacting standards.
The Platinum "Yakusugi" Cedarwood Fountain Pen is one of Platinum Exotic Wood family of luxury writing instruments, with its rich texture and intricate grain polished to a beautifully smooth finish. This pen is made of rare wood pen features a very smooth writing solid gold 14k nib available in F, M and B points. With its light weight and warm feel in the hand, these make it a very comfortable pen to write with.
The pen features a unique "Slip and Seal" mechanism in the cap, meaning an airtight screw-on cap that prevents ink from drying out. Other fountain pens can dry out in as little as 2–4 weeks without use, but Platinum's Slip and Seal cap prevents dryout for over a year without use.
The pen comes in a beautiful light weight Platinum wood gift box, a Platinum converter, a starter ink and an international warranty.
Platinum fountain pen is renowned of the great smoothness of its nib and weightless feel of fine writing pen.
Size: 147mm long
Diameter: 15.2mm max
Weight: 23.5g
TAG:&nbsp&nbspPlatinum&nbspJapan&nbsp#3776 Yaku-Sugi
Related Products