Platinum Ink Cleaning Kit

for Japanese Pens

ICL-1200

Platinum Ink Cleaning Kit

for Japanese Pens

ICL-1200

Platinum Ink Cleaning Kit

for Japanese Pens

ICL-1200

Platinum Ink Cleaning Kit

for Japanese Pens

ICL-1200

Platinum Ink Cleaning Kit

for Japanese Pens

ICL-1200

Platinum Ink Cleaning Kit

for Japanese Pens

ICL-1200

Platinum Ink Cleaning Kit

for Japanese Pens

ICL-1200

Series

Ink Cleaning Kit

Model

ICL-1200

Body

-

Nib

-

Weight

82 g

Size

-

Brand

Platinum

Origin

Japan

Others:

Platinum Ink Cleaning Kit for Japanese Fountain Pens, ICL-1200 The handy Platinum ink cleaning set for Japanese fountain pens contains everything you need to give your pen a thorough cleaning. The kit
Platinum Ink Cleaning Kit for Japanese Fountain Pens, ICL-1200
The handy Platinum ink cleaning set for Japanese fountain pens contains everything you need to give your pen a thorough cleaning.
The kit includes 5 packs of ink cleaning solution (10ml each), a Platinum fitment eyedropper and bilingual (Japanese & English) instruction booklet.
The cleaning kit can be used in every fountain pen that uses standard international cartridges.
This Platinum Cleaner Kit is especially useful for cleaning fountain pens that have not been cleaned for a while that have old ink inside, and can also be used to give your pen a removal of residues or paper scraps.
This kit is only suitable for fountain pens of Japanese cartridge type.
Through regular cleaning, this kit can revive neglected fountain pens and keep your loved fountain pens nice for a longer service life.
HOW TO USE:

1) Remove the used Ink cartridge
2) Fix dropper to inside nib area where the ink cartridge normally goes. Use clean water in a cup to clean the nib by squeezing water in and out of the dropper while affixed to the nib.
3) Wash a nib in the lukewarm water
4) Mix one pack of Ink Cleaner Concentrate into the clean lukewarm water in the amount of 200ml.
5) Soak the nib (with dropper removed) in the mixed liquid for a day.
6) Remove the nib from the cleaner liquid, and fix attached dropper to a nib again to wash it in a cup of clean water again of 10 times for a better result.
7) Rinse everything with clean running water, then wipe with a dry cloth.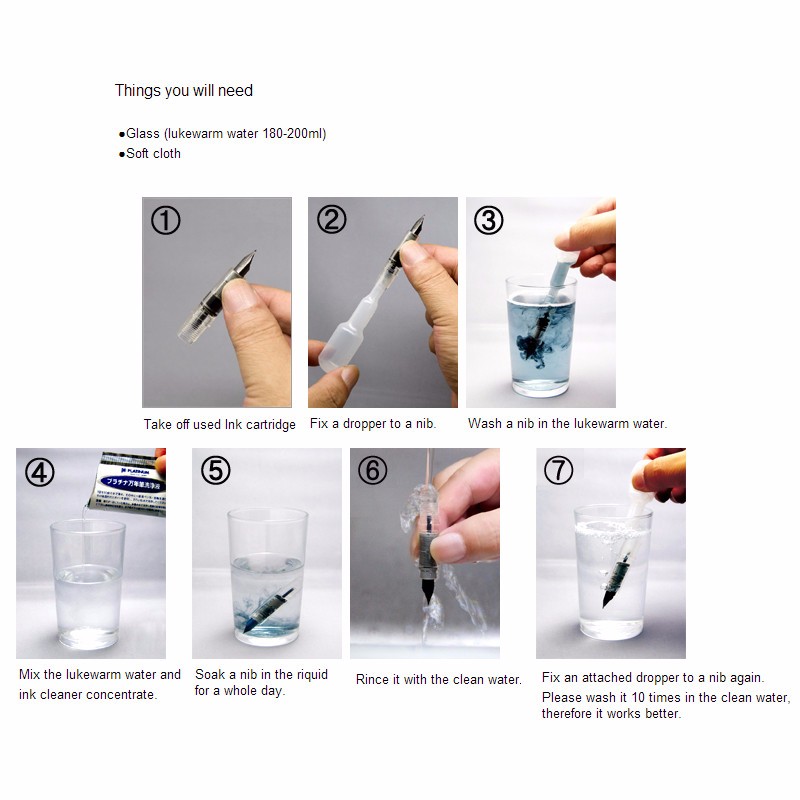 TAG:&nbsp&nbsp&nbspPlatinum&nbspJapan&nbspInk Cleaning Kit
Related Products