Platinum PLAISIR

Fountain Pen

PGB-1000/PGB-1000B

Platinum PLAISIR

Fountain Pen

PGB-1000/PGB-1000B

Platinum PLAISIR

Fountain Pen

PGB-1000/PGB-1000B

Platinum PLAISIR

Fountain Pen

PGB-1000/PGB-1000B

Platinum PLAISIR

Fountain Pen

PGB-1000/PGB-1000B

Platinum PLAISIR

Fountain Pen

PGB-1000/PGB-1000B

Platinum PLAISIR

Fountain Pen

PGB-1000/PGB-1000B

Platinum PLAISIR

Fountain Pen

PGB-1000/PGB-1000B

Platinum PLAISIR

Fountain Pen

PGB-1000/PGB-1000B

Platinum PLAISIR

Fountain Pen

PGB-1000/PGB-1000B

Series

PLAISIR

Model

PGB-1000 or PGB-1000B

Body

Alumite finish on aluminum/PMMA resin

Nib

Stainless Steel, Fine/Medium

Weight

15.4 g

Size

142.5 x 15 mm

Brand

Platinum

Origin

Japan

Others:

Platinum Plaisir Fountain Pen, PGB-1000/PGB-1000BThe Platinum Plaisir is a fun and robust fountain pen made from scratch-resistant anodised aluminium.Both barrel and cap are made of aluminum and it ha
Platinum Plaisir Fountain Pen, PGB-1000/PGB-1000B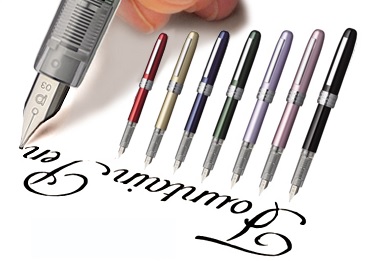 The Platinum Plaisir is a fun and robust fountain pen made from scratch-resistant anodised aluminium.
Both barrel and cap are made of aluminum and it has a superior shiny finish due to its special anodized coating.
Because it has a superior shiny finish, smooth nib, lightweight and affordable price, these make it as the best starter pen for beginners.
The cap on the Platinum Plaisir fountain pen is a snap-off cap matching the color of the pen.
It comes with silver trim and stainless steel nib. This fountain pen accepts Platinum cartridges or a Platinum converter.
This Plaisir is available in 12 different colors and the pen point is available with either a Medium (0.5mm) or Fine (0.3mm) steel nib
PGB-1000#1 Black / PGB-1000#21 Pink / PGB-1000#25 Nova Orange
PGB-1000#28 Violet / PGB-1000#41 Green / PGB-1000#47 Bali Citrus
PGB-1000#56 Blue / PGB-1000#68 Yellow / PGB-1000#70 Red
PGB-1000B#3 Ice White / PGB-1000B#57 Frosty Blue / PGB-1000B#98 Gun Metal
The Plaisir also features Platinum's unique slip and seal mechanism in the cap, meaning an airtight screw-on cap that prevents ink from drying out. Other fountain pens can dry out in as little as 2–4 weeks without use, but Platinum's Slip and Seal cap prevents dryout for over a year without use. Meanwhile, a newly redesigned nib and feed regulate the ink flow.
Presented in Platinum gift box together with one black Platinum ink cartridge
Dimensions: 142.5mm long
Diameter: 15mm max
Weight: 15.4g
TAG:&nbsp&nbspPlatinum&nbspSlip & Seal Mechanism&nbspPlaisir&nbspFountain Pen&nbspSlip & Seal Mechanism
Related Products