Rubinato Metal Feather Pen Set

#7315/B

Series

Metal Feather Pen Set

Model

7315/B

Body

Silver Color Metal

Nib

Steel

Weight

100g in approx

Size

7 inches in approx

Brand

Rubinato

Origin

Italy

Others:

A Designer Silver Pen in the Shape of Feather Quill By Rubinato, #7315BIn this digital world, hand-written letter becomes very precious and private with original human touch. A feather pen is a most e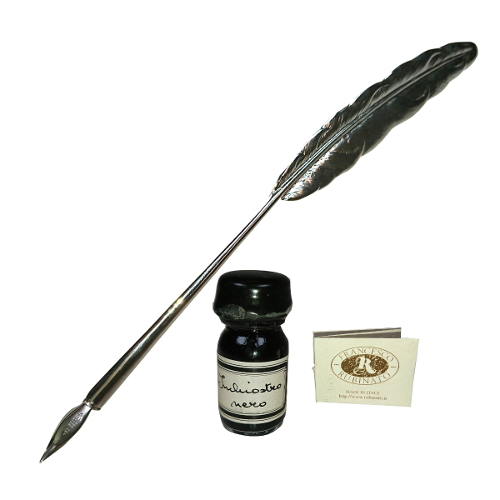 A Designer Silver Pen in the Shape of Feather Quill By Rubinato, #7315B
In this digital world, hand-written letter becomes very precious and private with original human touch. A feather pen is a most elegant way to write down your thoughts.
This calligraphy set consists of an awesome vintage style Silver Feathered Quill and a writing bottle ink of 10cc.
Pen is approximately 7 inches in length in the form of a complete quill with tapered silver tube and finely etched feather.
Elegant in appearance, this beautiful feather pen is perfect for weddings, ceremonies or serves as a decoration for special event.
This feather quill is fitted with nib tip for an easy ink flow. The feather pen is very easy to use and write. Dip the ink at the line no more than the half of nib, clean it with water after use and dry it with a cloth
Nib style is selected at random.
Total weight of 100g in approx.
Packaged in a lovely gift box with a bottle of black ink. Bottle is wax-sealed.
Package Includes:
1* Silver Feathered Quill
1 * Glass bottle of ink (10cc)
1* Certificate of Authenticity
1* Gift Box
MADE IN ITALY
The feather color may vary slightly from picture due to monitor and lighting effect.
This set and many other calligraphy items can be found in our web page and facebook.
Please note that color of the photos may vary due to the difference between monitors.
The specs, photos or videos of this product page are for reference only.
TAG:&nbsp&nbspRubinato&nbspFeather&nbspInk Pen&nbspItaly
Related Products