Platinum Izumo Tame-nuri Biwa-tame Fountain Pen

PIZ-55000#30

Platinum Izumo Tame-nuri Biwa-tame Fountain Pen

PIZ-55000#30

Platinum Izumo Tame-nuri Biwa-tame Fountain Pen

PIZ-55000#30

Platinum Izumo Tame-nuri Biwa-tame Fountain Pen

PIZ-55000#30

Platinum Izumo Tame-nuri Biwa-tame Fountain Pen

PIZ-55000#30

Platinum Izumo Tame-nuri Biwa-tame Fountain Pen

PIZ-55000#30

Platinum Izumo Tame-nuri Biwa-tame Fountain Pen

PIZ-55000#30

Platinum Izumo Tame-nuri Biwa-tame Fountain Pen

PIZ-55000#30

Platinum Izumo Tame-nuri Biwa-tame Fountain Pen

PIZ-55000#30

Series

Izumo Tame-nuri

Model

PIZ-55000#30 ( Yellow)

Body

Ebonite / Tamenuri lacquer finish

Nib

18K Gold

Weight

34.5 g

Size

154 x 18 mm

Brand

Platinum

Origin

Japan

Others:

Platinum Izumo Urushi Tamenuri Biwatame枇杷溜 (Yellow), PIZ-55000#30The Platinum Izumo is an extraordinary masterpiece among luxury fountain pensThe Izumo Tamenuri is a large pen made of ebonite wi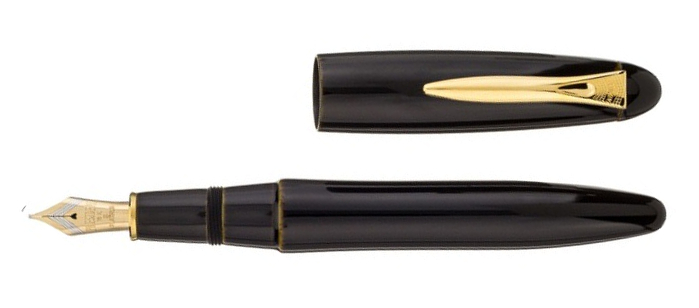 Platinum Izumo Urushi Tamenuri Biwatame枇杷溜 (Yellow), PIZ-55000#30
The Platinum Izumo is an extraordinary masterpiece among luxury fountain pens

The Izumo Tamenuri is a large pen made of ebonite with an urushi lacquer coating. It has a simple classic cigar shaped, with almost every surface is curved. When the pen is closed, the only piece of trim is the clip. Because of the convex shape, this pen can fit in the fingers perfectly. For a pen, it is full of warmth and character.
The barrel is hand-made, all the coatings, wax and oil polished are applied by the experienced craftsmen, resulting a rich and deep finish making it a marvelous piece of art.
It comes in three finishes, Yellow, Red and Green. For the Yellow model, the color of this pen is not only black; the seam has a subtle yellow hue. The color of yellow will become more obvious with usage over time, making the urushi lacquer finish increase its beauty. This pen is really quite breathtaking when look closely of it.
This comes with a very smooth-writing 18k solid two-tone gold nib available in F, M and B points.

The pen comes in a special paulownia wooden gift box, a beautiful cloth pen pouch, a scroll of fountain pen paper, a single cartridge and converter.
Platinum fountain pen is renowned of the great smoothness of its nib and weightless feel of fine writing pen.
Length: 154mm long
Diameter: 180mm max
Weight: 34.5g
TAG:&nbsp&nbspPlatinum&nbspJapan&nbspIzumo &nbsp Tame-nuri
Related Products