Platinum Izumo Chikuringunkozu

(Tiger in Bamboo Forest)

Fountain Pen

PIZ-150000C#1 (Discontinued)

Series

Izumo

Model

PIZ-150000C#1 *(Discontinued)

Body

Ebonite Maki-e Black

Nib

18k Gold Ruthenium Plated

Weight

33.8 g

Size

154 x 18 mm

Brand

Platinum

Origin

Japan

Others:

<>Platinum Izumo Sumiko Taka Maki-e Shikkoku Chikuringunkozu (Tiger in Bamboo Forest) Fountain Pen with 18k Gold Wide Ruthenium Plated Nib, PIZ-150000C#1Shunichi Nakata, the

*(Discontinued)
Platinum Izumo Sumiko Taka Maki-e Shikkoku Chikuringunkozu (Tiger in Bamboo Forest) Fountain Pen with 18k Gold Wide Ruthenium Plated Nib, PIZ-150000C#1
Shunichi Nakata, the founder of Platinum Pen, launched the Izumo series in 2010 with the help of local craftsmen and the cooperation of officials from Izumo City in Shimane Prefecture. The name was chosen to acknowledge the birthplace of the founder. The launch of "Shikkoku Chikuringunkozu" (tiger in the bamboo forest), adding to the Izumo series shikkoku collection, following last year's release of "Kurikara-ken."
Gunkozu is a panel painting, believed to be the work of Tanyu Kano, in which tigers in a bamboo forest are drawn dynamically and with a unique style. On this fountain pen, a tiger with crossed front legs emerging from the bamboo forest is used as a motif.
The illustration is drawn over the jet-black matte body with sumikoage taka maki-e technique, using charcoal powder, called shoen, in several layers to provide a three dimensional look. The shadow produced by the height of the charcoal powder layers gives depth to the image, so as the barrel catches the light, the illustration is enhanced.
It is a fountain pen that embodies refined Japanese traditional craftwork, as the image of the tiger becomes glossier the more it is used.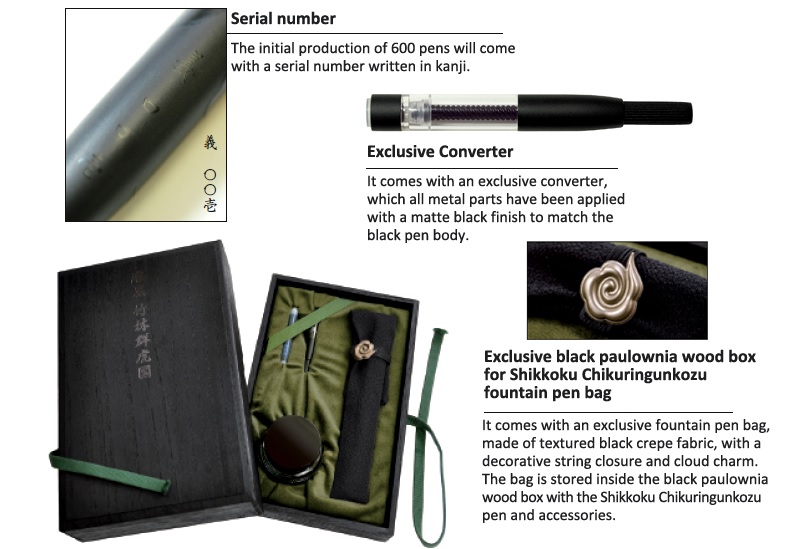 TAG:&nbsp&nbspPlatinum&nbspJapan&nbspIzumo &nbspMakie-e&nbsp Fountain Pen
Related Products